News Detail
Category :
[Event]
Posted at :
2019-02-01
Chinese New Year Event (Ended)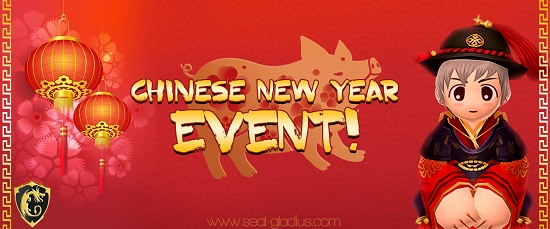 Untuk memeriahkan bulan Febuari ditahun 2019, Team Seal Online Gladius sudah menyiapkan event yang tidak kalah serunya dengan Tahun lalu!
Durasi Event 1 Febuari 2018 Sampai 22 Febuari 2018
Cara Mengikuti Event Imlek cukup mudah, kalian hanya perlu memburu monster "Angpao" yang berada di Adel Monastery, Travia Valley, Sikara Valley, Land's End, Forest of Herkaus dan Crude Mountain Range dan mengumpulkan 5 Warna Pouch of Luck.
Tentu saja setiap warna Pouch of Luck mempunyai chance yang berbeda beda.

Pouch of Luck dapat ditukarkan melalui webquest

List Pouch of Luck

Red Pouch of Luck ( Normal )
Blue Pouch of Luck ( Rare )
Green Pouch of Luck ( Very Rare )
Silver and Golden Pouch of Luck ( Extremely Rare )

List Reward :
Red Rascal Rabbit Costume(R)
Orange Rascal Rabit Costume(A)
Yellwo Rascal Rabbit Costume(B)
Green Rascal Rabbit Costume (B)
Blue Rascal Rabbit Costume (I)
Navy Rascal Rabbiti Costume (T)
Purple Rascal Rabbit Costume (S)
Vintage Costume Gangsi
Vintage Chinese opera Costume
Vintage Costume Martial Arts
Vintage Emperoor Costume
Saqqara formula Sam Sun Zhajiang
Angel Costume
China OBT Costume
China OBT Arms1
China OBT Arms2
China OBT Arms3
China OBT Arms4
China OBT Arms5
China OBT Arms6
Chinese New Year Costume
Rascal Rabbit Pajama (B)
Rascal Rabbit Pajama (S)
Rascal Slot Machine Bag